Frightening48
The Peace Region's 48-hour Horror Film Challenge
Oct. 19-21, 2018
Over the course of an adrenaline-filled weekend, filmmaking teams compete to write, shoot, and edit a short horror film based on a randomly selected character, a provided line of dialogue and a given prop. The films will be screened at Grande Prairie Live Theatre in Grande Prairie, Alberta on October 28 from 7-9pm.
Prizes to be announced, but the real prize will be bragging rights.
REGISTRATION
Teams of all ages and skill levels are encouraged to participate. All short films must be produced in the Peace Region to qualify for entry. PRIMAA is happy to help individuals find a team to join.
Please read our FAQs as well as the Full Rules before registering!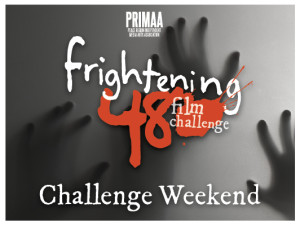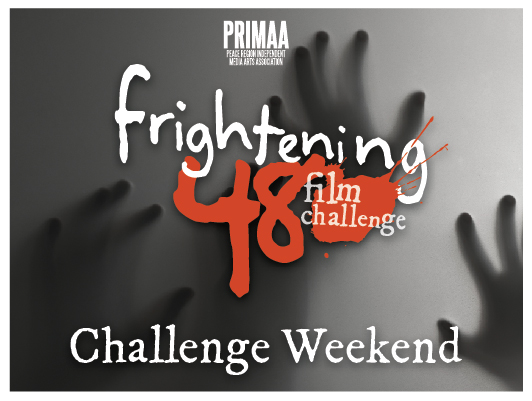 Shoot Weekend
Update: This year we are pushing the start and end time to 7pm. This will give teams more time on Sunday to complete their films (or have an extra hour of sleep!)
7pm, Friday October 19th until 7pm, Sunday October 21st
ALL FILMS must be handed in by 7pm on Sunday to qualify.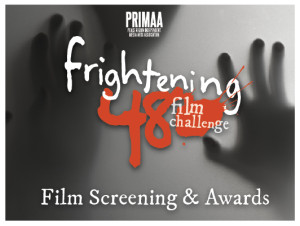 TBD
October 28 from 7-9pm
ENTRY FEE
 Early-bird Registration
(closes Sep 28) 

   Regular Registration
(closes Oct 15)

PRIMAA Member Teams
$25
$50
Non-Member Teams
$50
$75
Only one fee is required per team. PRIMAA membership is not required. Your Team Captain must be a PRIMAA member in order to qualify for reduced registration fees. PRIMAA membership is $50 and includes several member benefits.
PROCESS
The Start - Friday, Oct. 19th at 7pm - PRIMAA Space, 10014-102 Ave (Back of Building)
Registered teams can pick up their starter packages in person at the PRIMAA Space, 10014-102 Ave (Back of Building), Grande Prairie.
Out of town teams can request digital delivery of their info packets.
Each team will be given their starter package containing a pre-selected random character. All teams will have to include a specific prop and line of dialogue in their film. The characters will be different for each team, while the prop and dialogue line will be the same for all teams. Each of these must be included in your final short film project to qualify.
The End - Sunday, Oct. 21 at 7pm - PRIMAA Space, 10014-102 Ave (Back of Building)
Completed 2-6 minute projects are to be turned in by 7pm Sunday to compete for prizes. Late entries will be accepted until 9pm Sunday, however late entries will be exempt from prizes. Entries after 9pm Sunday will not be accepted. For more details see our FAQs as well as the full Rules and Regulations.
Should you have any questions, please contact PRIMAA.