2016 Frantic48 Films
THANK YOU TO OUR PARTICIPANTS
The following teams each produced a film project in the Peace Region as part of the third annual Frantic48 filmmaking competition in April 2016. Their films screened as part of the Reel Shorts Film Festival.
Congrats to all of the participating teams for making so many unique creative projects. We hope you continue to make films and we truly hope to see all of you back in October ready to play again. We want to especially thank team captains and their teams.
#PureDeadBrilliant
LowKey
Alliance
B.O.L.O.
Bourbon & Scotch
Anyone Out There?
Friendship & Funtimes
Madame Giselle
Gutterball Cinema
Daisy's Birthday
Hen House
Friday Special
La Crete'a Last Curtain
Family Planning
Lil D Productions
A Little Road Trip
Plaidhat Productions
To Kill Our Innocence
Sitting Ovation
Between the Keys
Sledgehammer Productions
Grande Prairie True Crime
The Frantic Four
Game Day
Young Life
Gestalt
All thirteen teams completed their films, and nine completed and submitted their projects within the very difficult 48-hour window. All thirteen were screened as part of the 2016 Reel Shorts Film Festival and the qualifying films were judged by a jury and the audience.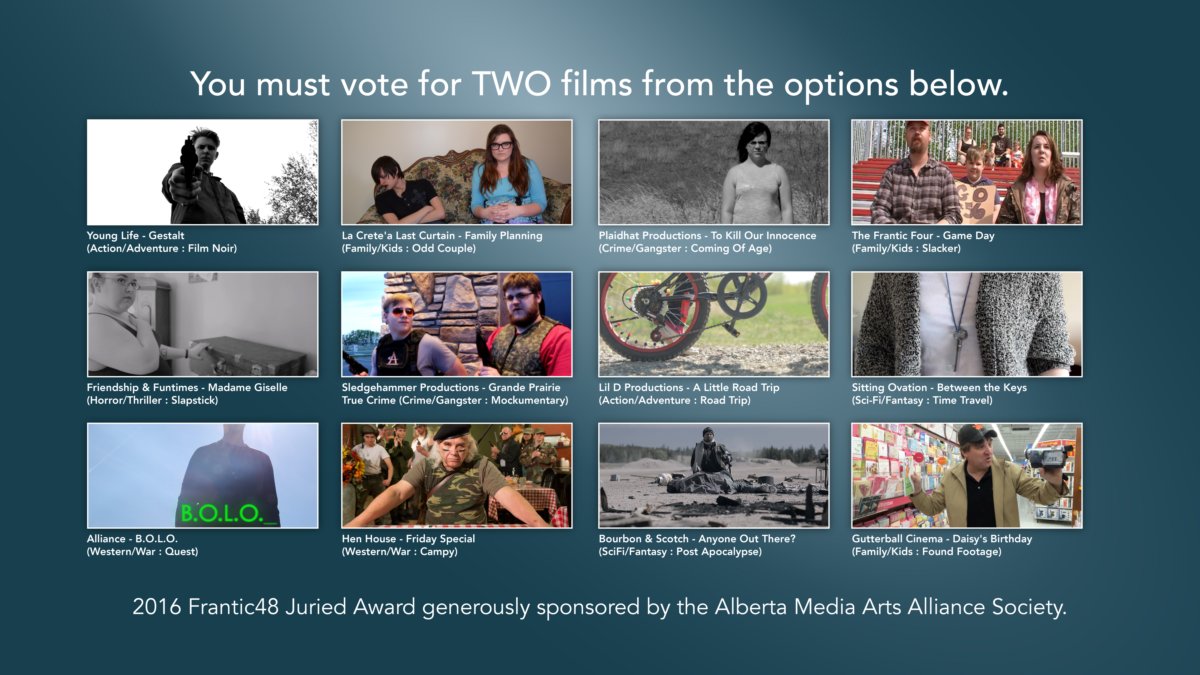 Teams were given 48 hours to write, shoot, edit and deliver a 2-7 minute short film. Each team was assigned a random pairing of genres and all teams had to incorporate a prop (a key) and a line of dialogue ("What are you hiding?").
Some teams spent more time polishing their films after the 48 hour challenge, which is heartily encouraged, and some of these posted clips reflect that. Not all films have been shared online, which is 100% at the discretion of the filmmakers, so this selection is incomplete.
Thank you to Community Futures for Sponsoring the Awards, and huge gratitude to Reel Shorts and GPLT for co-presenting this event with PRIMAA.
Award Winners
Congratulations to the winning team, Bourbon & Scotch, led by Team Captain Gordie Haakstad. Their film Anyone Out There? won both the Audience Choice Award and the Juried Award (not posted online).
Submissions
The following films represent a selection of participant work that has been posted online. If your film is online and not posted here, please contact PRIMAA to have it added.