Film Stew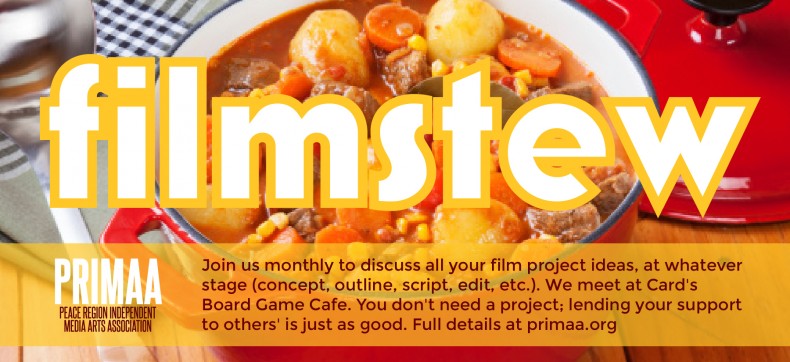 Got the Filmmaking Bug?
Whether you're brainstorming ideas, figuring out a crucial plot point, or editing a scene, come out to PRIMAA's Film Stew, a film development club where you can discuss your film project and receive constructive feedback from fellow filmmakers. You are also expected to lend your ideas in helping other filmmakers develop their own projects.
Film projects of all stages welcome:
idea stage
story structure
treatments
screenwriting
rewrites
shot breakdowns
editing
Much like a book club, Film Stew will meet monthly to discuss projects at whatever stage you're in.  You'll have self-imposed assignments due the next meeting, which will hopefully keep you moving forward with your film!
Constructive Feedback
Encouraging feedback is import, but it's crucial that the feedback is also honest.  You will hear a variety of opinions on your project from filmmakers with all sorts of backgrounds.  Come ready and open to receive the gamut of feedback -- what you do with it is up to you.
Likewise, when discussing another's project, we expect constructive criticism that may aid the filmmaker in furthering his or her project.
Come Ready
If your film requires people to review content, be prepared with hard copies, electronic links, or visual aids to present your ideas.  There are limitations to presentations being in a public space (i.e. sound quality might not be theatre-grade), so keep that in mind when deciding the best way to present.
Each participant will receive an equal amount of time for their project so it's wise to also have prepared what topics you'd like to discuss, questions you'd like to ask, or specific feedback you're looking for.
Have your checklist of what you should bring:
Pen, Paper/Notepad, Laptop/Tablet/Connected Device
Hard copies, links to materials
Specific questions and/or discussion topics
An open mind
Your constructive-thinking caps
Homework, WHAT?!?
To keep you motivated and on tasks between meetings, you will assign yourself "homework" due at the next meeting.  It can be anything from revising a scene in  your screenplay, or advancing from an outline to a treatment; the point is to keep you accountable for work so your project keeps advancing.
If you don't complete your assignment, you won't be allotted time; however, if you need additional feedback to complete your tasks, we will definitely carve out a slot.
But it's my First Time?
If this is your first time attending Film Stew -- or if you're switching to a new project, no problem.  Bring your new ideas at whatever stage and be prepared to present it to the group.
Intellectual Property
You own your project (at least we assume you do!).  Any feedback given during our meetings is for you to do with as you wish with no restrictions attached.  If the club helps you with your project, it would be great to receive a thanks in your credits to the "PRIMAA Film Stew"
Cost $$$
Free for June, July and August 2023!
After August 2023: Best part: it's free for PRIMAA members!  Non-members can attend one PRIMAA event for free but then we ask you to become a member to continue attending.
As we are kindly being hosted by Card's Board Game Cafe, it would also be nice to show local support by buying a drink or snack.
Meeting Info:
Every 1st and 3rd Wednesday of the month June, July, August 2023!
June 7th - do you have an old script collecting dust, a story line, concept or just want to be a part of a short film? Bring your ideas to the table and pitch your script at Cards Board Game Cafe. After pitching your script we will vote in the best received concept and begin writing a short film.
June 21st- the writing process begins. After delegating a writer we will contribute our thoughts, concepts, locations and talent to the group.
July 5th - review the script, delegate the crew, add responsibilities, audition for roles.
July 19th- finalize shot list, lock down shooting schedule, dates and gear
August 2- review shots, schedule B shots, voice over or reshoot list. Begin the editing process and music.
August 16th- review edits. Finalize film for September.
7:00pm - 9:00pm
Card's Board Game Cafe (10001 100 Ave., Unit 102)
Cost:
FREE for PRIMAA members and Non-PRIMAA members