2015 Frantic48 Films
THANK YOU TO OUR PARTICIPANTS
The following teams each produced a film project in the Peace Region as part of the second annual Frantic48 filmmaking competition in April 2015. Their films screened as part of the Reel Shorts Film Festival. Congrats to all of the participating teams for making so many unique creative projects. Great work everyone! We hope you continue to make films and we truly hope to see all of you back in October ready to play again. We want to especially thank team captains and their teams.
Neapolitan Unicorn
Mike Evans
Dark Light Studios
Ryan Kosa
AFL
Mack McDonald
Tricat Plus Boy
Elizabeth Griffiths
Undone Films
Monty Simo
Dusty
Dustin Shaffer
La Cretes Last Curtain
Shelly Banman
mc2 media
Michael Bourree
Bourbon and Scotch
Gordie Haakstad
Siyazama
Gwen Bonnell
Touch The Button
Henry Bartsch
Red Horizon
Mike Lindblom
Team Awesome
Tyler Moore
All thirteen teams completed their films, and nine completed and submitted their projects within the very difficult 48-hour window. All thirteen were screened as part of the 2015 Reel Shorts Film Festival and the nine qualifying films were judged by a jury and the audience.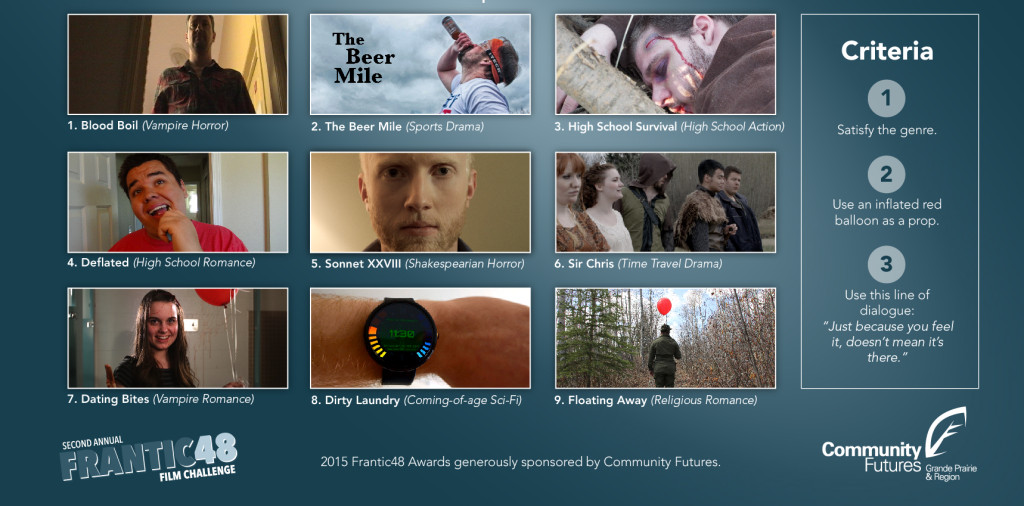 Teams were given 48 hours to write, shoot, edit and deliver a 2-7 minute short film. Each team was assigned a random pairing of genres and all teams had to incorporate a prop (inflated red balloon) and a line of dialogue ("Just because you feel it, doesn't mean it's there.").
Some teams spent more time polishing their films after the 48 hour challenge, which is heartily encouraged, and some of these posted clips reflect that. Not all films have been shared online, which is 100% at the discretion of the filmmakers, so this selection is incomplete.
Thank you to Community Futures for Sponsoring the Awards, and huge gratitude to Reel Shorts and GPLT for co-presenting this event with PRIMAA.
Award Winners
Congratulations to the winning team, Bourbon & Scotch, led by Team Captain Gordie Haakstad. Their film Dating Bites won both the Audience Choice Award and the Juried Award (not posted online).
Submissions
The following films represent a selection of participant work that has been posted online. If your film is online and not posted here, please contact PRIMAA to have it added.