2017 Frantic48 Films
THANK YOU TO OUR PARTICIPANTS
The following teams each produced a film project in the Peace Region as part of the fourth annual Frantic48 filmmaking competition in April 2017. Their films screened as part of the Reel Shorts Film Festival. This was the largest Frantic48 year ever with 18 teams registering and 17 handing in films!
Congrats to all of the participating teams for making so many unique creative projects. We hope you continue to make films and we truly hope to see all of you back in October ready to play again. We want to especially thank team captains and their teams.
Astro Knights
Your average date
Bourbon
Coming Home
Clan of Glam
Shattered Love
Frantic Owls
Simplify
Hen House
Still Got It
La Crete's Last Curtain
Silent Witness
Last Minuters
The Two Betrayals
Lights, Camera, Craft Services
The Team
Mean Three
Love Lost
Plaidhat Productions
Next Time
Sledgehammer
GPTC2
Team TBD
Grime of Passion
The Globo Gym Purple Cobras
The Lowest Point
TMT
Looking for Maddie
We Tried ...ish
The Tickle Sack
Young Life
Ravenous Love
Seventeen of the eighteen teams completed their films, and thirteen completed and submitted their projects within the very difficult 48-hour window. All thirteen were screened as part of the 2017 Reel Shorts Film Festival and the qualifying films were judged by a jury and the audience.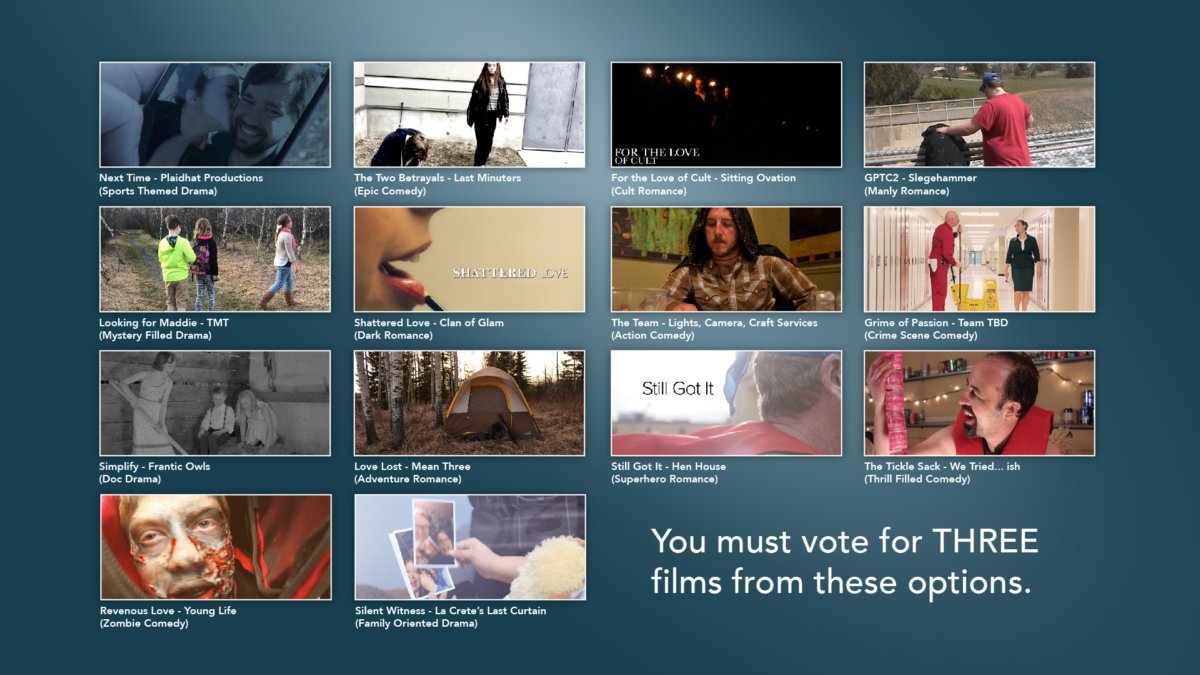 Teams were given 48 hours to write, shoot, edit and deliver a 2-7 minute short film. Each team was assigned a random pairing of genres and all teams had to incorporate a prop (a backpack) and a line of dialogue ("What are you doing here?").
Some teams spent more time polishing their films after the 48 hour challenge, which is heartily encouraged, and some of these posted clips reflect that. Not all films have been shared online, which is 100% at the discretion of the filmmakers, so this selection is incomplete.
Thank you to Community Futures for Sponsoring the Awards, and huge gratitude to Reel Shorts and GPLT for co-presenting this event with PRIMAA.
Award Winners & Results
Jury Selections
Honourable Mentions
Best use of Line: 'The Team' by Lights, Camera, Craft Services
Best use of Prop: 'The Tickle Sack' by We Tried ...ish
Best use of Genre (Doc Drama): 'Simplify' by Frantic Owls
Youth Award
'Ravenous Love' by Young Life
Best Overall Runners Up:
'Shattered Love' by Clan of Glam'
'The Team' by Lights Camera Craft Services
Best Overall
Still Got It' by Hen House
Audience Choice
3rd Runner Up - 'The Tickle Sack' by We Tried ...ish
2nd Runner Up - 'Grime of Passion' by TBD
1st Runner Up - 'Shattered Love' by Clan of Glam
Most Votes - 'Still Got It' by Hen House
The caliber of films continues to improve each year. Keep filmmaking, Peace Region!
Submissions
The following films represent a selection of participant work that has been posted online. If your film is online and not posted here, please contact PRIMAA to have it added.
Astro Knights - Your Average Date
Lights, Camera, Craft Services - The Team
Hen House - Still Got It (Winner: Jury & Audience Choice)
The Frantic Owls - Simplify
Young Life - Ravenous Love
We Tried ...ish - The Tickle Sack