Our first PRIMAA Member Workshop: success!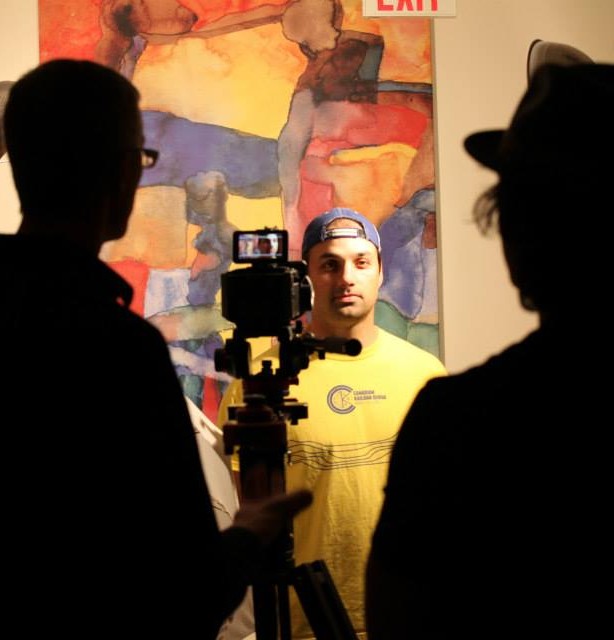 Part of our mandate is to offer our members four PRIMAA Member Workshops each year. The goal with these events is to get as many Peace Region filmmakers and media artists as we can together and do some hands on learning, working, and networking.
We held our first workshop this past week at the Showcase Centre in Grande Prairie, and I think I can speak for the group when I say that we had a blast.
I led an informal lighting workshop, bringing my experience as a stills photographer and amateur filmmaker to talk about the basic principals and techniques of lighting humans for film or photo. Topics included hard vs. soft light, direction, colour, modifiers, flags, short vs. broad light and backlight. I hope everyone learned something. Thanks to Travis for allowing us to scrutinize his face unabashedly.
After that, we moved on to put a bit of what we learned into practice, and make something fun. So, with the help of volunteer actors Travis Fowler, Cam White, and Sophia Gould, and the technical gear of filmmakers Cam Belseth and Mike Bourree, we shot a short improvised scene in the space of two hours. What a blast! We were all laughing our butts off. When we have a cut or two of the footage, we'll post them and share on our Facebook page.
Thanks to everyone who came out, including Dallas, Don, Dion, Rory, Monty, Mandy, the Three Cams, our actors and anyone I missed. What a cohesive crew.
The PRIMAA board is working hard on finalizing our schedule for future Member Workshops and booking presenters and leaders to facilitate them. We will have more info on our 2014 plan within the next month or so. We also hope to do one more Member Workshop in late 2013, so stay tuned for details.
Chris Beauchamp
PRIMAA Communications Chair
Categories:
Member Workshops