TISM - Encore Screening
April 6, 2016 @ 7:00 pm - 9:30 pm
$12
Event Navigation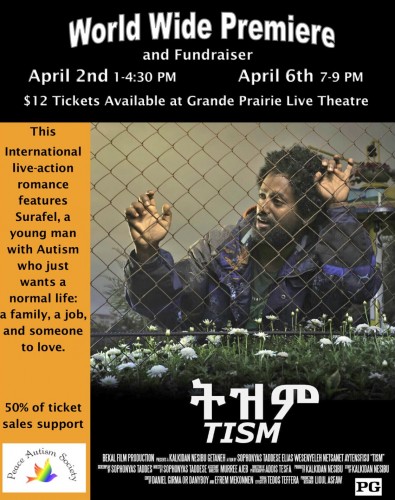 Autism? …the devil plays with her and you give it a beautiful name."
Surafel is a young man who falls in love with his coworker, Lishan. Dealing with Autism makes it a challenge for him to express his love for her. When a new man appears, it becomes even harder for Surafel to win her heart. Surafel is proof that people with Autism are talented, intelligent, and have great gifts to share with the world. Most importantly, they can still find love.
Bekal Productions is teaming up with the Peace Autism Society to release "TISM" as a fundraising event in support of Autism. 50 percent of ticket sales will be donated to Peace Autism Society, and 50 percent will support the global release of "TISM" in Ethiopia, Canada and beyond.
If you would like further information, you can contact Nicole Collison, president of the Peace Autism Society at 7808328019 or Kal Getaneh (Producer of TISM) at 7809787422. Tickets may be purchased at Grande Prairie Live Theatre.