The Role of Social Media Marketing For Filmmakers
January 26, 2021 @ 7:00 pm - 9:00 pm
Event Navigation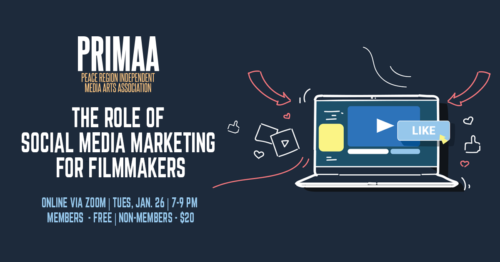 Instructed by Danielle Smith
Let's dive into the role of social media marketing and learn how to make it work for you, and your film or project. Social media marketing is a powerful tool that not only grows your film or project reach, but it encourages your targeted audience members to help join in with the leg-work.
You've already created the content, so let's work together to encourage users to share it. We will discuss what goes into setting up a social media marketing campaign, how to execute a successful campaign and some growing and monitoring tips for your next campaign.
Free - PRIMAA Members
$20 - Non-members
Register: https://primaa.wildapricot.org/event-4094457
About Danielle Smith:
Born and raised in a small Nova Scotian rural town, I always dreamed about where my future career would take me. My passion for learning, communications and desire to connect drove me to a profession in Communications and Marketing. I've always been a collaborator and curious about individual's passions and sharing their stories.
My aspiration for adventure, new experiences and meeting new people pushed me to take the leap and move across the country to Alberta. Grande Prairie has quickly become my home away from home where my passion of helping individuals connect and communicate effectively, social media strategy and bringing comic relief to every situation continues to grow.
Currently, I work as a Public Relations Specialist, a marketing freelancer and take every opportunity to teach and educate businesses and content creators on proper social media and communication tactics