The Instagram Aesthetic: Content Building for Media Artists
April 15, 2021 @ 6:30 pm - 9:30 pm
Event Navigation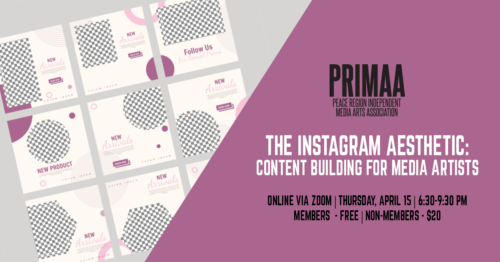 Instructed by: Danielle Smith
Instagram is one of the most popular platforms today for creators, but it is also one of the most competitive and intimidating platforms. Understanding the creation of hashtags, presets, stories and reels is needed to set your content apart. Although anyone can launch an Instagram account, it takes work and pre-planning to launch a successful account to create the opportunity to watch your brand grow.

This workshop will dive into launch content ideas, dos and don'ts, setting your feed up for success, content creation and how-tos for stories, presets and more. Although this workshop is for Instagram, it will also help with content creation strategies for other social media platforms.
Free - PRIMAA Members
$20 - Non-members
About Danielle Smith: 
Born and raised in a small Nova Scotian rural town, I always dreamed about where my future career would take me. My passion for learning, communications and desire to connect drove me to a profession in Communications and Marketing. I've always been a collaborator and curious about individual's passions and sharing their stories.
My aspiration for adventure, new experiences and meeting new people pushed me to take the leap and move across the country to Alberta. Grande Prairie has quickly become my home away from home where my passion of helping individuals connect and communicate effectively, social media strategy and bringing comic relief to every situation continues to grow.
Currently, I work as a Public Relations Specialist, a marketing freelancer and take every opportunity to teach and educate businesses and content creators on proper social media and communication tactics.