Funding Basics for Indie Filmmakers
February 10, 2021 @ 6:30 pm - 9:30 pm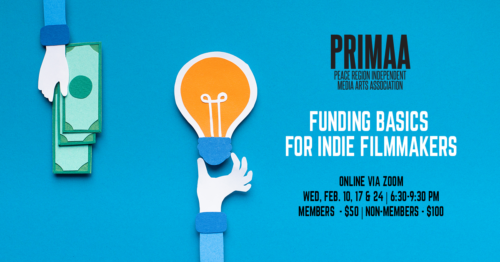 3-part workshop, 3-hour sessions weekly for 3 weeks.
Dates: Feb. 10, 17, & 24
Instructed by: Ava Karvonen
You've got a great idea but how do you get access to the cash to help you tell your story?
This three-part course will introduce the participants to a range of public and private funding opportunities in Canada. Course will include guest presenters who will present their projects (including the evolution of the project, pitch material, showing a short clip, and sharing overall budget and finance strategy) followed by a Q and A. Case studies will include low budget feature film, web series, dramatic short, documentary, and animation.
About Ava Karvonen:
Ava Karvonen is multi-platform producer and the founder of Edmonton's Reel Girls Media. She has produced and executive produced more than 200 hours of content for the global market including TV, web and mobile. Her work has seen more than 90 worldwide screenings and been internationally recognized with more than 45 awards.
Ava has mentored 33 TELUS Storyhive teams, executive produced the web series How to Learn Anything (now in production on Season 3), and is in development on a feature film project supported by the Harold Greenberg Fund with writer/director Anne Wheeler and producer Michelle Morris (Red Snow). She recently produced the critically acclaimed feature documentary, Finding Bobbi, that tells the story of an actor who returns to stage as a woman in the iconic role of Aunt Eller in an LGBTQ+ interpretation of Oklahoma! 20 years after last performing on stage as a man. Her credits include producing six series, twelve hour-long documentaries, more than 150 webisodes and podcasts, animation, games, and an online companion to an animated TV series where the audience uses digital assets from the series to create their own comics and stories. In addition to producing, Ava also writes and directs. She directed two seasons of Chaos and Courage for APTN; was one of the directors on the CBC series Keeping Canada Alive; wrote and directed The Lie Detective; directed and produced Homefront (a project that took her to Afghanistan); and directed Seeds of Change (taking her to China).
Ava believes in giving back to her community. Ava has been teaching credit and non-credit courses for NAIT, FAVA, MacEwan, and Raindance. She has also helped develop industry policy while serving for the past 20 plus years on the boards of the Edmonton Arts Council, AMPIA, Alberta Foundation for the Arts, Documentary Organization of Canada (DOC), and DOC AB. She is the chair of WIFTA (Women in Film and Television Alberta), Vice President Film for IATSE Local 210, and sits on the advisory committee of the Edmonton Screen Industries Office.
$50 - PRIMAA Members
$100 - Non-members