Please join us for an Open House Sept. 12 in Grande Prairie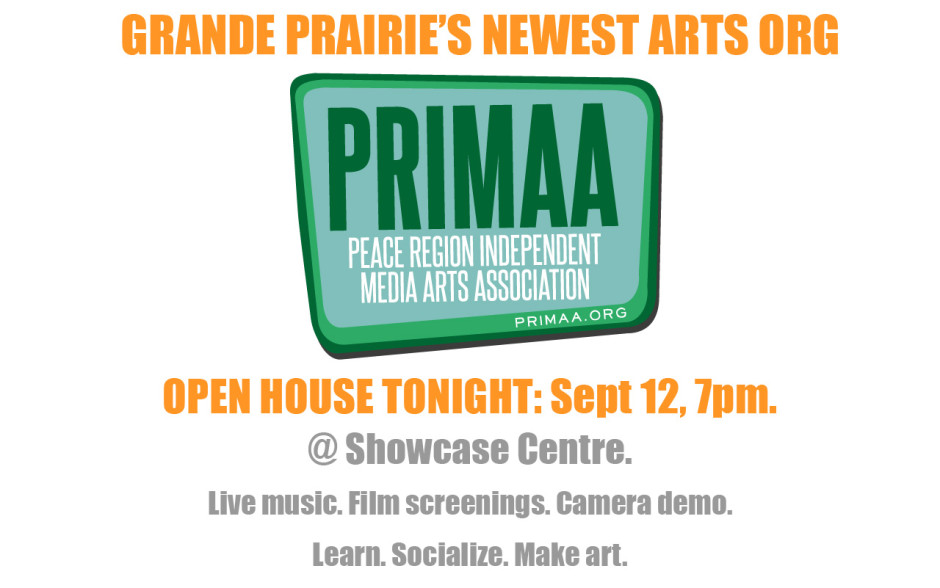 PRIMAA is brand new! So we thought we would throw open our doors and invite the world to an open house. But, you see, PRIMAA is brand new! So new, in fact, that we don't have doors.
Or a house.
But no matter! What we do have is a dynamic board working to build an organization that benefits the media arts community of the Peace Region. We're hoping that PRIMAA can provide a number of services to the local media arts community, from workshop opportunities to equipment rental, hands on training, networking and collaboration. Long term, PRIMAA just wants to see more unique media arts projects conceived and executed in the Peace Region.
So come out to meet some of that community, and to learn a bit about PRIMAA over snacks and cocktails. Plus it'll be fun.
WHAT:
PRIMAA welcomes all to our Open House. Meet us. Learn about joining. There will be light refreshments, live performances as well as the screening of HB, Cream Cheese and the new Tasman Jude music video.
WHEN & WHERE:
September 12th, 7pm 2013 at Ovations - at the super gracious Showcase Centre in Grande Prairie.
ABOUT PRIMAA:
PRIMAA facilitates and supports Peace Region media artists in the production and exhibition of media arts.
Categories:
Upcoming Events