Got what it takes for the Frantic48?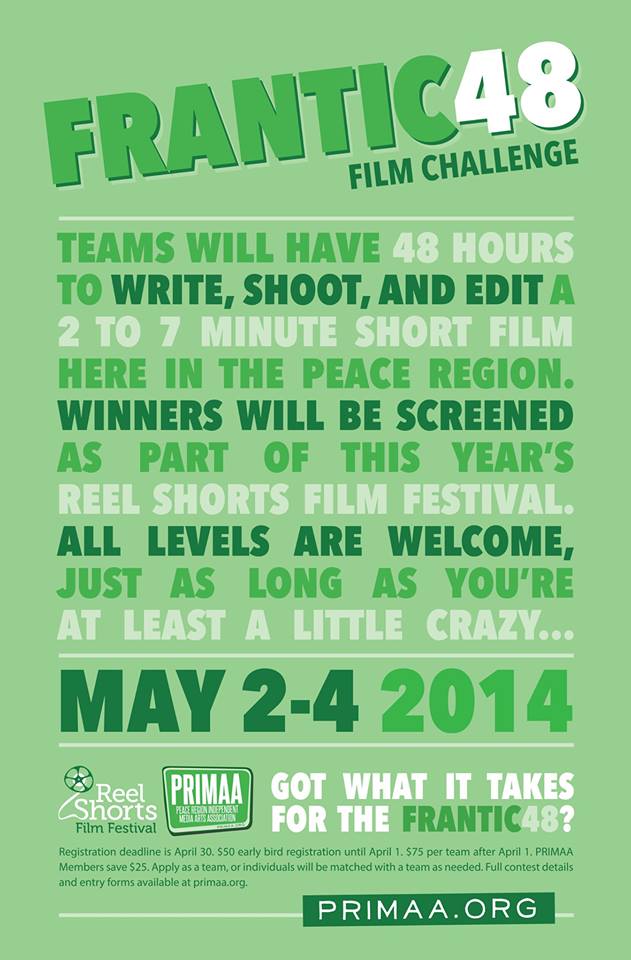 Today is the LAST DAY for early-bird registration for the Peace Region's first 48-hour Film Challenge, the FRANTIC48!
Register today and save yourself $25 off the regular team price. Each team only needs to pay a single registration fee, and you can add or remove team members all you want later.
Team captains, you don't need to have everything figured out now; you just need to register. Registration is easy and can be done online.
ALSO: Thanks to a generous donation from Community Futures, we can also announce TWO PRIZES OF $500 each for a juried selection and the audience choice.
The top films from the Frantic48 will be screened as part of this year's Reel Shorts Film Festival. What's not to like about that?
The Frantic48 is presented by PRIMAA in collaboration with Grande Prairie Live Theatre and the Reel Shorts Film Festival. Prizes are thanks to the generous support of Alberta Community Futures.
Got what it takes for the Frantic48?
Categories:
PRIMAA Presents